I love awesome tags on gifts and Christmas is a GREAT time to do this!

Sometimes you don't really need a card but a tag is a great way to give a message and add to the theme of a gift you are giving! Tags are also a great way to use scraps and those loose things that you have floating around your craft space. I think that this is also an excellent opportunity to practice new techniques, because of the smaller scale you are working on.
So this week I thought that I would incorporate "loose" items I have in my stash. I will practice what I preach and use up some stuff!

Here are some of these items I talk about, where did I get them? Who knows! But today I will be GLAD I have them!


So I came up with 8 tags, I used everything from my loose stash and scrap paper drawer. Here they are :

I had these gold things since the beginning of scrapbooking time, I think they were called photo anchors? Never used them, BUT they make great Christmas lights! Love these now.



For this next one, I used a stamp I have had for awhile, and then small pieces of metal ball trim and ribbon.



For this I brought out the eyelets, not something I use to often, but I still really like them.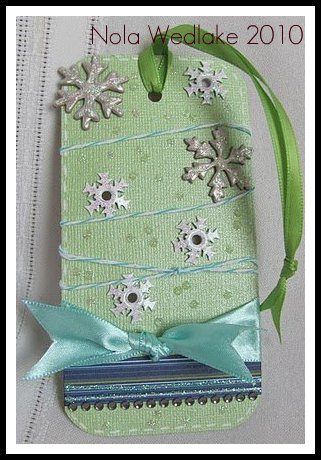 This next one isn't overly Christmassy (I don't think this is a word but you know what I mean), but I think the colors would work on a Christmas gift.
I used the flower brads, and a mini metal frame! I have a bunch of these mini frames......again, where did they come from?.....who knows, but today I was glad I had them because I think it makes the tag!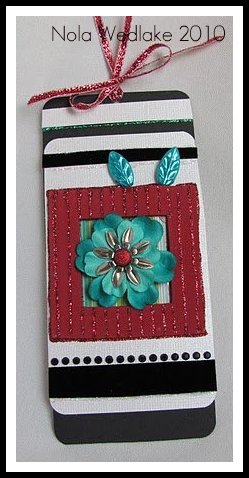 I think these three are my favorite, I have used a lot of black in my Christmas projects this year which is definitely new for me and I
it!

I hope that this inspires you to make some tags for your Christmas gifts and use up some of those "treasures" you have laying around your craft room.

_________________