I was thinking about Christmas presents and packages and sending items in the mail.

I LOVE getting things in the mail.
Even as a kid I would send away for all these "FREE" deals that you would find in magazines.
I got make-up, magazines, recipe clubs and other free products. Drove my Mom crazy!

As I got older I starting trying out different ways to mail items and this idea was my favorite!
What is the "message" your sending , well that's up to you - Merry Christmas, Happy Birthday - this will work for anything!
You can use any plastic pop bottle, I used a 2 litre, but any sizes is fine depending on what you want to put in it. Wash it out, dry it REALLY well. Then cut a slit down the side of the bottle, this is where you will stuff your treasures in.
Here is all the treats I put into my bottle for Lori, with wishes for a very Merry Christmas!
I then covered the slit with packaging tape and glued the lid shut, and off to the post office to mail it.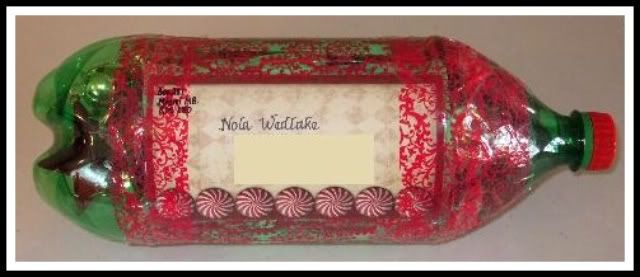 Here is the bottle Lori created for me! Love the green bottle with matching red cap to the tape she used.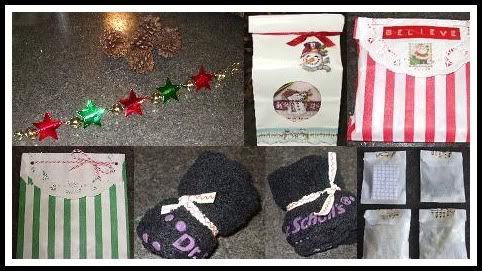 Here is the contents of what she sent to me all kinds of Christmas goodies. Socks, chocolates, scrappy things. The funny thing was is how similar the stuff was that we sent even though we did not know what the other was sending! Great minds, don't you think? LOL
The bottles hold up very well in the mail, nothing was damaged. It cost us both approximately $11 to send it. But it was so much fun and even the people at the post office were excited!