My girls and I love doing crafts and lately they have been making paper ornaments for our tree, so I was thinking about clay type ornaments and came across (on my Google search) many different examples of "salt dough ornaments".
I knew that they would love making these.
We followed the recipe below. (Although this recipe did work, I had to add extra flour to stiffen it up, but you can find many recipes for salt dough if you Google it that might be better.)
Salt Dough Ornaments
Directions:

1. Mix salt and flour.
2. Add in half the water, then gradually add the remaining water.
3. Knead until the dough is smooth


4. Roll out the dough on baking paper or floured counter top
5. Cut out shapes with cookie cutters or design your own.

Don't forget to create a hole to hang the ornament from!





Bake at 250 for 1-1 1/2 hr Make sure you don't burn them.



Let cool completely & paint.
These are what ours looked like when we were done!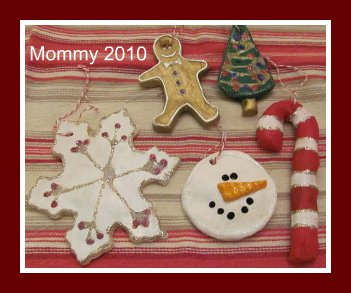 Merry Christmas, to you and your family!